Poland, known for its rich history and vibrant culture, is also a leading destination for medical tourism, attracting patients from across the globe. The country's medical tourism industry has seen a steady influx of patients, seeking a variety of treatments. This blog post explores the reasons behind this sustained interest, the most sought-after procedures, and the dental tourism market in Poland.
Where are the Patients Coming From?
The majority of medical tourists in Poland are from the United Kingdom, with the number of UK residents traveling to Poland for medical treatment increasing dramatically since 2005. This trend coincides with Poland's accession to the EU and the subsequent increase in the number of Polish nationals residing in the UK. It's worth noting that a significant proportion of these medical tourists are Polish nationals returning to their home country for treatment. This diasporic medical tourism is a substantial component of the overall medical travel to Poland.
Most Sought-After Procedures
The most popular treatments sought by medical tourists in Poland include cosmetic surgery, dental procedures, and fertility treatments. The country's reputation for high-quality, low-cost care has made it an attractive destination for these services. The rise in medical tourism in Poland is also attributed to increasing dissatisfaction with public healthcare options in the UK and cost barriers to private treatment.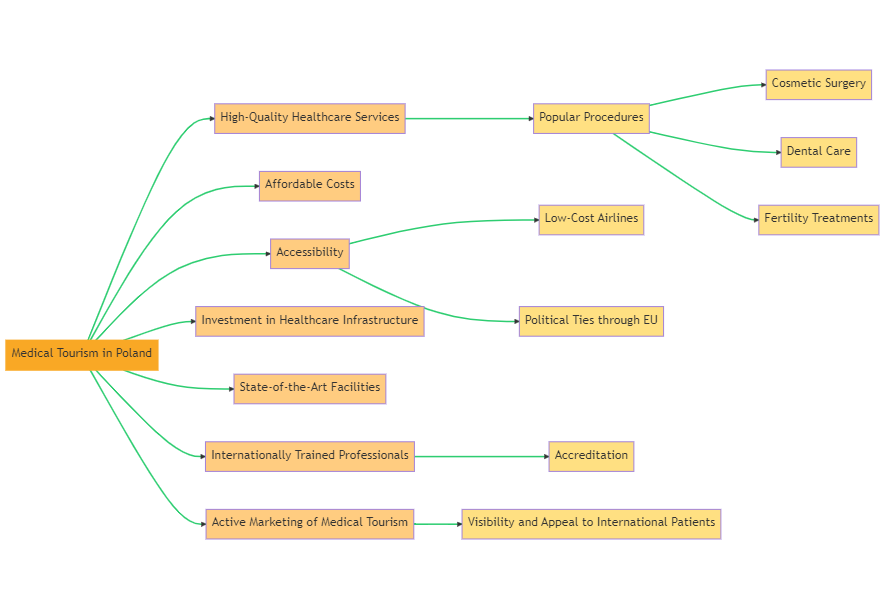 Poland's Medical Tourism Appeal
Several factors contribute to Poland's appeal as a medical tourism destination. The country offers high-quality healthcare services at a fraction of the cost compared to other European countries and the US. The increasing availability of low-cost airlines and strengthening political ties through the EU have made Poland more accessible to international patients.
Moreover, the country has invested significantly in its healthcare infrastructure and services, with many of its hospitals and clinics boasting state-of-the-art facilities and internationally trained and accredited medical professionals. The Polish medical tourism industry has been actively marketed, further enhancing its visibility and appeal to international patients.
Dental Tourism in Poland
Dental tourism is a significant part of Poland's medical tourism industry. The country is renowned for its high-quality dental services, which include a range of procedures from routine check-ups and dental hygiene to more complex treatments like dental implants and cosmetic dentistry. The cost of dental treatments in Poland is considerably lower than in many Western countries, making it an attractive option for patients seeking affordable dental care.
Conclusion
Poland's medical tourism industry is thriving, driven by the country's commitment to providing high-quality, affordable healthcare services. While most medical tourists are Polish nationals residing in the UK, the country is also attracting many international patients from other nations. As Poland continues to invest in its healthcare infrastructure and services, it is poised to solidify its position as a leading destination for medical tourism in Europe.
---
Reach Your Full Potential in Medical Tourism With MTB
At MTB, we are dedicated to supporting professionals and organizations in the medical tourism industry as they strive for success. As a leading provider of certification, contracts, marketing, and support, we offer comprehensive programs, expert guidance, and valuable resources that are designed to help our members achieve their goals and reach their full potential in the global healthcare market. With a focus on excellence and innovation, we help our members stay ahead of the competition and navigate the complex and dynamic world of medical tourism.
Tel/WhatsApp: +1 (561) 909-7178