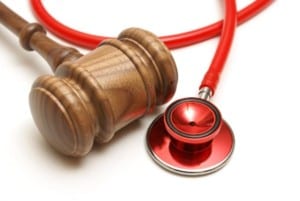 When you're an international patient coordinator, many factors that take place during the medical trip are out of your control. Although they are out of your control, they can put your client at risk and increase your liability. This includes things like medical complications, exposure to infectious diseases, or poor healthcare services. These unfortunate issues cannot be one hundred percent avoided, which is why all parties participating in the process need agreements.
Solid medical tourism contracts are the most crucial tool to safeguard your agency from potential lawsuits. They outline the rights, duties, and expectations of everyone partaking in the medical trip.
---
---
Protect Your Health and Wellness Tourism Agency with Ready-Made Contracts and Risk Management Tools:
>Patient Waivers
>Contract Between Facilitator and Hospital
>Facilitator and Patient Agreements 
>Patient Pre-Screening and Medical History Form
>Medical Traveler Application 
---
Medical Tourism Agreement Sample and Guidelines 
A tool such as medical history form will give you a health profile of the patient, including health-related conditions that could complicate the trip so that in case of any unfortunate circumstances, the blame does not fall on your business.
Agreement with the Client
As a medical facilitator, you are bridging the gap between that patient and the hospital. Since you coordinated the entire trip, your agency can become a target when things don't go according to plan. Most of the time, the blame lies elsewhere, so it is vital to protect yourself, which is why patient waiver forms and contractual agreements with hospitals are a crucial part of the process.
Through these contracts, you make sure the patient understands the terms and conditions you have placed and the risks involved in the procedure, clearing you of any liability. The patient thus opts to travel for the procedure at their own risk.
Yes! I need contracts for my business
---
Not A Health Care Provider or Medical Professional 
MTF Company is not a medical professional and does not have any hired medical professionals working for their company to provide medical advice or make any medical recommendations, before or during my medical trip.
Provides Educational Guidance on Travel and Physicians
This section needs to reflect that all information provided by your company and your staff is strictly for informative and educational guidance and should not be interpreted as medical advice. It would be best to make sure that the client knows that the information you provide is not an alternative for healthcare professionals. The client needs to seek a healthcare provider or healthcare institution they need a medical evaluation. MTC Company coordinates medical trips around the world and may need to collect sensitive information and important documents.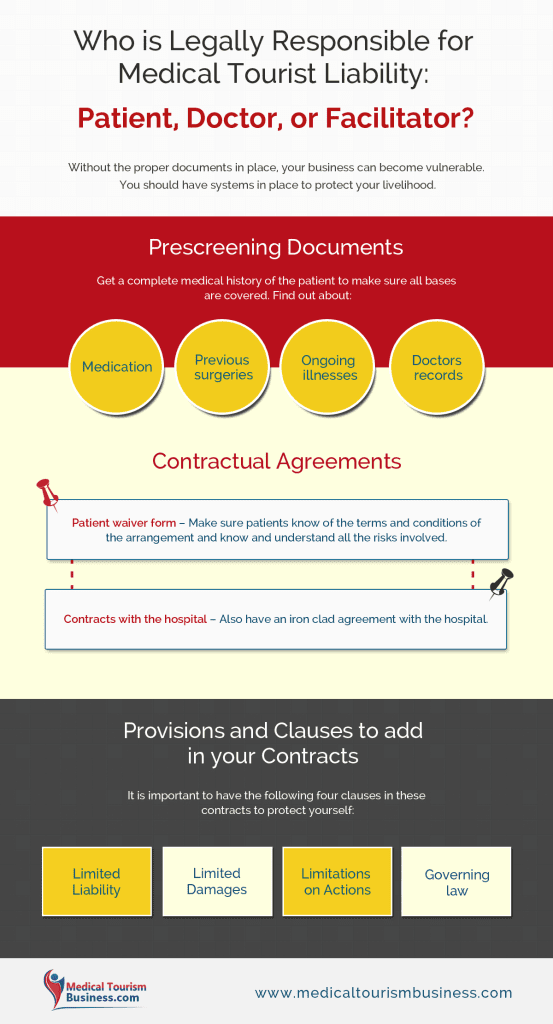 Clauses and Provisions
When the contractual agreements are drawn up, it is essential to pay attention to specific clauses and provisions that can be added to help better protect your business. These clauses help you make sure the client cannot come after you months later and enables you to mitigate your overall risk. Some of these clauses include:
Limited Liability
This is a provision that clears your business of any responsibility for losses that might be incurred by the client by individuals or factors out of your business's control, as the best of businesses cannot anticipate theft or accidents, nor can prevent it.
Limited Damages
This clause states that your business does not take any responsibility for any monetary compensation made for the client for loss or injury, for any purpose, apart from the coordination fees that your business was paid.
Conclusion
Providing yourself with limited liability is not about deceiving the patient or blaming them; it is about ensuring no one takes advantage of your vulnerability in this sensitive area of service. There are definite risks involved, and you can become liable if you don't take proper steps to protect yourself.
RELATED ARTICLE: We Have Pre-Made Facilitator Contracts To Protect Your Company From As Much Potential Risk As Possible
Limitation on Actions
This clause helps your business manage its risks by limiting the time for any claims a client wishes to make against you. You are cleared of responsibility after a specific timeframe after the patient returns home.
Governing Law
Since this is a global industry and many different countries are involved with their specific laws and regulations that might be contradictory, this clause is used to specify which governing laws will be used to interpret the Patient Consent in case of a dispute.
Individual Rules of the Country of Travel
Each country has unique laws on healthcare and different rules regarding medical travel. The facilitator must be familiar with the regulations in the destinations they'll be promoting, so they can provide clients with complete and accurate information.
Yes! I need contracts for my business
---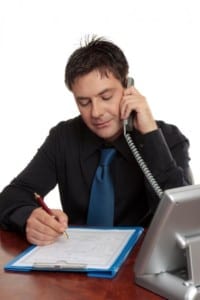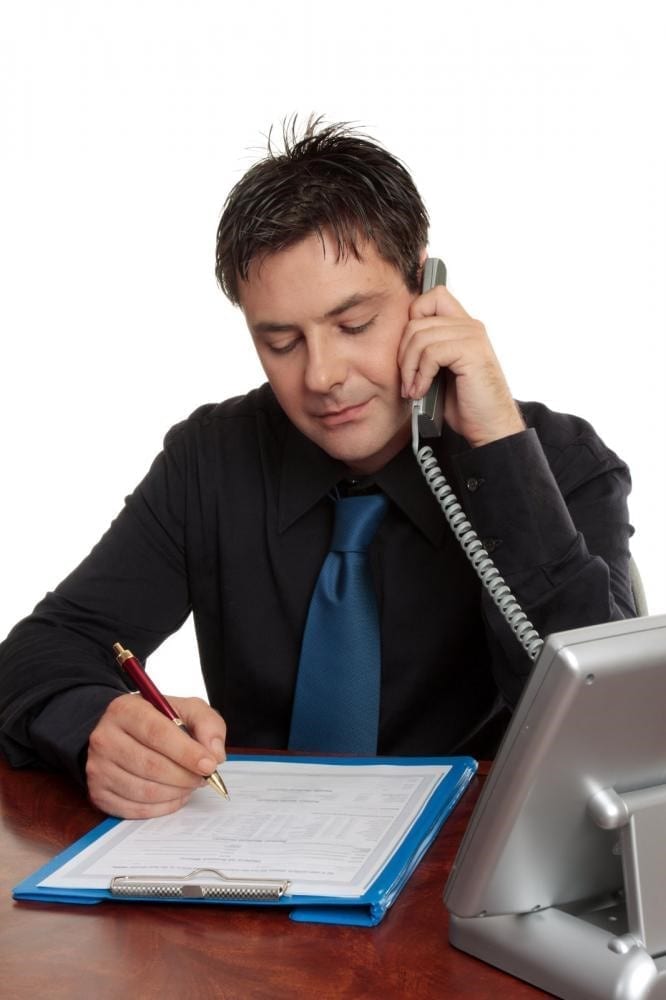 Client Satisfaction Maintenance
Remember, a client's health is the focus of this entire partnership, and maintaining a strict focus on the client's well-being will ensure a good word for your services from a satisfied client. Although this section isn't a 'law' per se, it is a point that should be strictly observed to achieve success in global healthcare.
Payment and Sensitive Information
This section needs to explain that you are in the business of coordinating medical tourism trips for the client, and this may include billing the client and transferring healthcare records to providers.
Client Acknowledges That They Consulted with Doctor About The Medical Trip
The client needs to acknowledge that they consulted their primary doctor about their medical condition and medical tourism trip.
The Client Was Offered Travel/Complication Insurance
There needs to be a section that addresses travel/complication insurance. If the client rejects the insurance, you need to state that the insurance was offered to the client, but it was rejected. You also should address the issue of if a complication occurs. This will help to protect you if there are any medical complications on the medical trip.
Yes! I need contracts for my business
---
Patient Acknowledges Risks
The patient needs to acknowledge that they understand the risk of traveling to another country for surgery or other medical procedures. Thus, they still choose to travel for the procedure at their own risk.
This clause is meant to inform the client of the benefits and risks of seeking medical care abroad. It covers all the possible dangers regarding medical treatment and the consequences of traveling after the procedure.
This language is especially beneficial for facilitators because it frees them from a wide range of liabilities.
No Guarantees
There needs to be a section where the patient acknowledges that you have not made any guarantees or promises regarding this medical trip or outcome from the medical procedure.
The End
Establishing an agreement between the healthcare provider, patient, facilitator, and any other entity or individual involved in the medical trip is vital. A solid contractual agreement can protect the facilitator from any financial setbacks and ensure timely payment.
Yes! I need contracts for my business
"The agreement clauses and notes provided by Medical Tourism Business have been created by legal professionals and industry experts to serve as a guide for medical tourism facilitators, healthcare providers, and their clients. These documents are not intended to be used as legal advice and may not be suitable for all circumstances. It is recommended that anyone using these contract clauses seek the guidance of a legal professional to ensure their rights are protected. Medical Tourism Business and its staff do not have an attorney-client relationship with users of these agreement clauses and cannot be held liable for any errors, omissions, or other consequences resulting from their use."  – Don S. Galvez, Esq.