Fill Out The Contact Form To Get This Free Video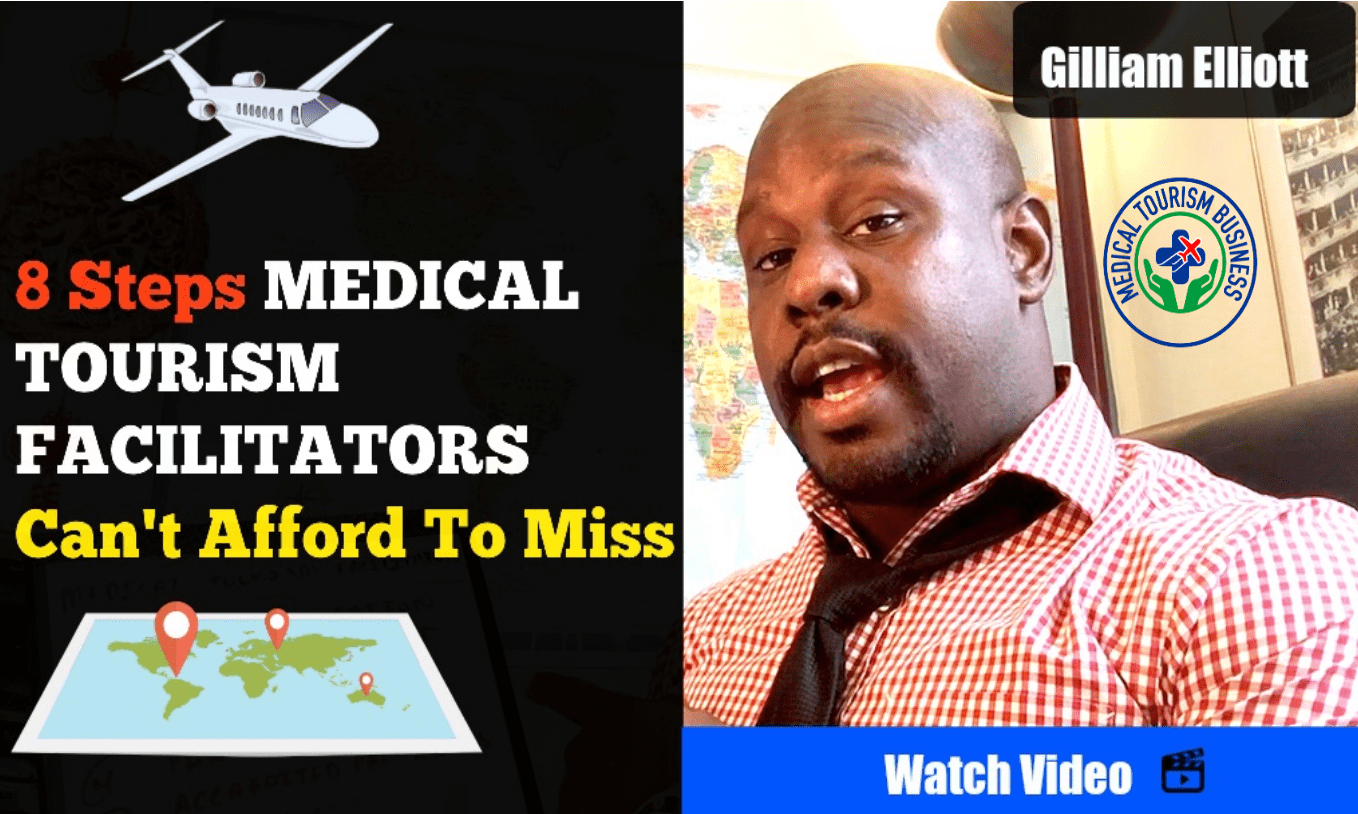 ---
8 Steps That Your Medical Tourism Facilitator Business Can't Afford To Miss
A medical tourism facilitator business means a lot of things to different people involved in the medical tourism process. To a consumer looking to undergo a medical procedure, a medical tourism facilitator is a trained logistics coordinator in charge of the medical needs of the patient. To a medical provider, a medical tourism facilitator is an agent/promoter/referral partner who coordinates appointments. These inclusions show that the medical tourism facilitator business is an integral part of the medical tourism industry. 
Over the years, I have worked with healthcare providers, facilitators, clinics, travel agents, and other figures in the medical tourism industry. My relationship with each figure has taught me a lot of things. One of which is the fact that a healthcare travel facilitator is deeply rooted in how to handle patients. Good relationships with patients enable increased business success. 
In this lesson, I will be teaching you the same things I have learned using my experiences and facts. 
Here are the eight steps your medical tourism start-up cannot afford to miss:
1.) Educating Medical Travelers
Patient education is one of the main aspects of the medical tourism facilitator. It involves educating patients about their medical procedure location, things to expect and do at the location, the health care provider, and the health care facility. Your patient education skills must be sharp, enlightening, and satisfying. At the end of the conversation, the patient should feel excited and comfortable about traveling to receive medical treatment abroad. 
2.) Patient Contact
From the moment the patient lands in the medical tourism destination, through the medical procedure period, until they leave, you must ensure to be in close and consistent contact with your patient. You should keep things organized by ensuring that they are on time for their appointments and that they meet their daily schedule. Just as you should be the first person to reach out to them immediately when they land, you should also be the last person they speak to when they return home from their medical trip.
3.) Patient Coordination
Patient coordination closely works with patient contact in the medical travel field. Patient coordination revolves around making sure that your patient is at the place they need to be at a particular time. It also revolves around organizing every facet to ensure that things go smoothly. Amongst other important things, ensure that you connect them with a reliable health care provider in the medical tourism destination that your sending them to, and ensure that there is someone on the medical team who speaks the native language of the patient.  
One of the worst feelings anyone can have in a foreign land is the feeling of being left stranded and helpless. If your patient finds themselves in such a situation, they will surely not feel safe. Not only will they have a bad time, but it will also affect your business. So put a reliable organization system in place. 
4.) Finding the Right Partners
The medical tourism facilitator business also thrives on partnerships. Ensure to partner with the right people, including the right health care provider. You can also tap into the bonus part of partnership by engaging in partnerships that will benefit you financially. Partnerships like getting involved with self-funded employers and working with insurance companies that can send you several patients can benefit your medical tourism facilitator business. 
5.) Accredited Hospitals and Clinics
Make sure you work with accredited medical professionals, hospitals and clinics. Whether it's a JCI accreditation or local accreditation, ensure that the healthcare organization has been accredited. The accreditation means that someone reliable has analysed that hospital or clinic and has proven that the facility meets the required standard. 
6.) Digital Marketing in Medical Tourism
Digital marketing firstly involves attracting the right customer. Attracting the right customer is, however, dependent on who and how you target. Decide whether to target individuals or corporations based on your budget and goals. Also, identify the timeline to get your return on investment and other basic things. Look carefully into the marketing strategy you aim to employ and come up with a realistic plan.
Never forget that the success of your medical tourism facilitator business is largely dependent on having an adequate number of patients who utilize your service. So, place a priority on medical tourism digital marketing. 
7.) A Trusted Brand and Credibility
Trust is one of the pillars of a successful medical tourism facilitator business. You will be able to build a trusted brand if you work with the right partners and the right healthcare providers. If you are not working with top-notch physicians, it will negatively affect your agency. If the patient receives a botched procedure because the doctor didn't adequately treat them, it will damage your company's trustworthiness. No matter what happens at that point, the patient is going to blame you since you are the one who planned and coordinated everything. So ensure you work with the right partners to enable you to have a trusted brand.
A trusted healthcare travel agent will not only provide the desired satisfaction for your clients, but it will also benefit your business in the short and long haul. Satisfied patients will not only refer their family and friends, but they will also tell people on social media about your services. 
I know a lady who got a successful weight loss surgery. She was excited to tell people about it. So, she took photos and posted them on social media for people to see the "before" and "after" images. As expected, people asked her how she went about the surgery. She delivered her part by referring them to her medical facilitator. 
8.) Client Follow-up
After confirming that they have seen the results of the medical procedure, ensure to follow-up. Never assume that your relationship has ended with that patient. Instead, engage in a follow-up. Ask them for referrals or testimonials (video or written). Maximize their experience by sharing the testimonials.
Not only should it be shared through them, but the testimonials should also be shared through your company. Testimonials will validate the authenticity of your medical tourism agency and brand your company in a positive light. 
This short medical tourism training course was written by Gilliam Elliott of Medical Tourism Business.